People living in the Mid Copeland Search Area will have their first GDF News delivered through letterboxes from this week.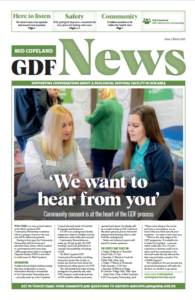 This printed newsletter provides residents with information on geological disposal and the work of the Mid Copeland GDF Community Partnership. You can also read this issue here ONLINE.
This edition includes details of our events being held this month which focus on the technical and safety aspects of a Geological Disposal Facility and also features changes to the Search Area due to Local Government Reorganisation.
There is an article about what is happening regarding geological disposal in Finland and features on safety, transport and the role of regulators the Environment Agency and Office for Nuclear Regulation.
The Community Partnership's Youth Lead Deborah Naylor introduces herself and there are all the details you need about getting in touch with the local team.
For those people who do not live in the Search Area, an e-newsletter is set to go out next week – sign up for our e-newsletter HERE.