Seven community projects have been awarded grant funding in Mid Copeland as the area takes part in the search for a suitable site for a Geological Disposal Facility (GDF).
A total of £218,054 has been awarded in the latest round of Community Investment Funding, plus one project from a previous panel.
The projects to benefit are:
£84,838 to revamp Beckermet Play Area with new equipment
£20,845 for Thornhill Social Club to improve access and provide a refurbishment plan
£49,114 for Gosforth Nursery and Out of School Club to provide an outdoor classroom, new equipment, resurfacing and fencing
£42,397 to Friends of Gosforth School to replace the Adventure Trail, provide new outdoor seating and an outdoor reflection area
£1,590 for Calderbridge and Ponsonby Village Hall to provide a structural survey and energy audit
£5,900 to Gosforth Agricultural Show for hire of a new arts & crafts marquee, plus purchase of tables and chairs which can be used by the community
£8,000 Gosforth Library Link for a new computer and some building refurbishment
£5,370 for Seascale Community Library to fund an architect's report into options to transform it into a community hub
Formation of the Mid Copeland GDF Community Partnership has given access to £1million Community Investment Funding per year from the GDF programme as discussions progress around what a facility could mean locally. The Search Area includes the electoral wards of Gosforth & Seascale and Beckermet.
A GDF is an underground facility designed to safely and securely dispose of higher activity radioactive waste. Community Partnerships are long-term groups made up of local people, the GDF developer and local authorities to consider the possibilities of hosting a GDF within an identified Search Area.
Andy Pratt, Chair of the Mid Copeland GDF Community Partnership, said: "A total of £283,553 has now been awarded for projects in Mid Copeland since the Community Partnership formed.
"It's fantastic to see examples of how this funding is now starting to help make some transformations to facilities, play areas and community groups across Mid Copeland which are really important to people.
"I would urge people to consider what they could do locally with this funding and have a chat with the Community Investment Funding team to see what is possible."
Gosforth Nursery and Out of School Club provides places for around 50 children in their full day care and nursery facilities, with many others attending out of school clubs. The funding will provide a much-needed second outdoor classroom for the youngsters, plus new equipment.
Manager Gillian Jackson is delighted with the funding. She said: "The importance of playing and learning in the outdoors is promoted at the nursery for children of all ages. This funding will allow us to further develop and enhance the outdoor provision we offer to children in the local and wider community and continue to promote the quality of the health and wellbeing of all those working and playing at our setting."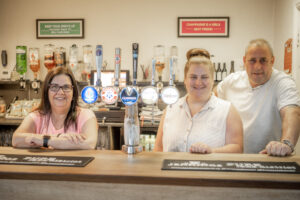 Gill Hewitson, secretary of Thornhill Social Club, said their funding would help the committee do some resurfacing work outside and provide access for disabled people.
"It will also help us to draw up plans to modernise the building inside and upgrade the facilities. We've done a lot ourselves so far but we're absolutely delighted with this funding as it will help us to get a refurbishment plan so we can hopefully open up more, particularly in the afternoons for meetings and other events," she said.
Julie Nugent, Chair of Beckermet with Thornhill Parish Council, says plans for a revamp of the village play area in Beckermet can now become a reality.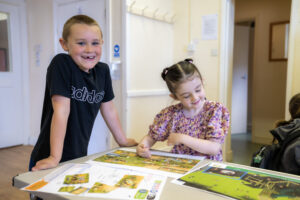 A large piece of equipment had to be removed as it had fallen into disrepair after 22 years. The children have been involved in choosing their preferred equipment which they would like to see in the new facility
"This funding is really going to make a huge difference to the children as there is not much equipment left now. It's going to be a fabulous play park which will be for younger children and juniors," she said.
David Halliday, a trustee of Seascale Community Library and Chair of the Parish Council, said: "We're delighted the money has been awarded to this exciting project. The building has a lot of potential and the funding will provide us with an architect's report with options to turn it into a community hub with meeting rooms and a library."
Deep geology beyond the coast is being considered for siting the underground elements of a GDF. This means a surface facility on, or near, the coast would provide access to a disposal area deep in rock beyond the coast.
If a suitable site is found in Copeland – a process which could take 10-15 years – a decision to develop a GDF in Mid Copeland could not be taken until the community in the electoral wards directly affected has had a say and taken a positive Test of Public Support. The GDF programme requires both a suitable site and a willing community.
The Community Partnership is keen to hear from groups with projects that could be eligible for Community Investment Funding – for further information go to: https://midcopeland.workinginpartnership.org.uk/community-investment-funding/