Welcome to the second newsletter from the Mid Copeland GDF Community Partnership. In this edition we'll let you know about some larger scale events next week and provide feedback from the March drop-ins. We also have information on becoming a member, plus some questions and answers around marine surveys which will be carried out off the Mid and South Copeland coast this summer.
Next week we have five days of exhibitions being held around Mid Copeland where we will provide experts in different areas to continue discussions and answer your questions around what a Geological Disposal Facility (GDF) could mean for the area.
It follows three weeks of drop-ins in March during which over 100 people came along to speak with our Community Engagement Team. Many different conversations were had during that time and we asked which subjects in particular people were interested in hearing more about.
From Tuesday until Saturday next week we have arranged for events to be held on the subjects which you said matter most – of course you can go along and ask any questions – read on for more details.
Mid Copeland GDF Community Partnership was the first to be formed in the country in November 2021 with a Search Area which includes the electoral wards of Gosforth & Seascale and Beckermet.
Community Partnerships are long-term groups made up of local people, the GDF developer and local authorities to consider the possibilities of hosting a GDF within an identified Search Area. A GDF is an underground facility designed to safely and securely dispose of higher activity radioactive waste.
Please find some details below about expanding our membership for this Community Partnership. Current members feel there are certain categories of people which would be useful to have input from, reflective of the community and as the Community Partnership evolves so will the membership. Take a look and find out the details below.
During the summer, marine geophysical surveys will be carried out off the coast in Mid and South Copeland in order to get a better understanding of the geology and whether it could be suitable for geological disposal. In this newsletter you can find out more about this work in a useful set of questions and answers.
We have a flyer going to homes in Mid Copeland this week about next week's events and, as always, if you have any further questions or would like to get in touch with us – our contact details are at the end of the newsletter and there is further information on our website: https://midcopeland.workinginpartnership.org.uk
Ask the experts – GDF events focus on what matters to local people
Mid Copeland GDF Community Partnership is holding a series of events to talk about what a Geological Disposal Facility could mean – with experts answering questions on the subjects which matter most to local people.
Following feedback from three weeks of drop-ins held in March, these larger scale events will focus on the areas people said they would like to hear more about – including geology, the GDF siting process and Community Investment Funding.
Gillian Johnston, Community Engagement Manager for the Community Partnership, said: "We had really good discussions with people during those three weeks which included many different subject areas. People asked us questions, brought some concerns and also spoke about the opportunities.
"We also asked people what particular areas they wanted to hear more about – to continue those discussions. Among those was the suitability of the local geology, what would happen during the siting process and the £1million Community Investment Funding.
"At these upcoming events we will have people who can answer further questions and have some more in-depth discussions, so please come along."
The events are as follows:
Tuesday, May 17: Drigg and Carleton Village Hall, 10-6pm
Wednesday, May 18: Beckermet Reading Rooms, 12-5pm
Thursday, May 19: Seascale Golf Club, 12-7pm
Friday, May 20: Gosforth Public Hall, 12-6pm
Saturday, May 21: Thornhill Social Club, 10am-3pm
Deep geology beyond the coast is being considered for siting the underground elements of a GDF. This means a surface facility on, or near, the coast would provide access to a disposal area deep in rock beyond the coast.
If a suitable site is found in Copeland – a process which could take 10-15 years – a decision to develop a GDF in Mid Copeland could not be taken until the community in the electoral wards directly affected has had a say and taken a positive Test of Public Support. The GDF programme requires both a suitable site and a willing community.
The Mid Copeland area now has access to £1million Community Investment Funding per year from the GDF programme. Projects which have received funding so far include Seascale BMX Pump Track, Beckermet Reading Rooms and Seascale Cricket Club.
** The Community Engagement Team will also be at the Cumbrian Traders' Market in St Nicholas' Gardens, Whitehaven, on May 27.
Over 100 people attend drop-in events
Thank you to everyone who came along to the drop-in events during March. In total 116 people attended the 29 events across seven locations and asked almost 250 questions/statements to the Community Engagement Team across a range of subjects.
Gillian Johnston, Claire Dobson and Sue Shepherd enjoyed the engaging conversations with everyone across all of the different venues.
"It was good to have some really in-depth discussions with people, answer questions and listen to concerns face to face," said Gillian, Community Engagement Manager.
"We asked people what they would like to hear more about at future events and by far the most popular subjects were geology, the siting process and Community Investment Funding which is exactly why these will be key focus areas for next week's events."
Claire Dobson, Community Engagement Co-ordinator, said: "We all live in Copeland ourselves so we know the area and can have really informed conversations with people. It was good to hear a whole range of views from people and be able to take their points on board. We also provided information to help the community further understand what a GDF could mean for Mid Copeland."
Sue Shepherd, also a Community Engagement Co-ordinator, said: "We're looking forward to next week's events which are being held over longer hours and an event taking place on a Saturday, so hopefully there is a time and a day to suit people. I'd encourage people to come along and take part in the conversation – all questions and thoughts are welcome."
The team has also been asked to attend a number of events around Copeland to give talks and explain about the GDF Programme over the coming months. If you are part of an organisation or group and would like such a talk, please contact the team via the details at the end of the newsletter.
Here is a flavour of some of the questions asked and statements given at events over the three weeks:
What will the head works look like?
What's happening to the waste in the meantime, whilst we wait for a GDF to be built?
What projects will the CIF funding cover?
Some of these communities need more than £1 million per year.
How long does the CIF funding take?
Will you upgrade the infrastructure here if the GDF is built here?
It needs to be done, I am just worried about the disturbance of the build i.e noise, traffic.
Common sense would suggest that Copeland is the best place for the GDF.
I don't think you will have feasible geology here!
In the long term the GDF jobs will only be temporary then when it's closed the jobs will go and we will have nothing!
How does having LLWR nearby affect the GDF?
Where would the spoil go?
How will the Community vote?
Where else is there a GDF in other countries?
How many other regions have been put forward? If the government changes, how would it affect this process?
All communities could say no. What happens then?
Has there been any thoughts to transporting it (the waste) if it is not here (Mid Copeland)?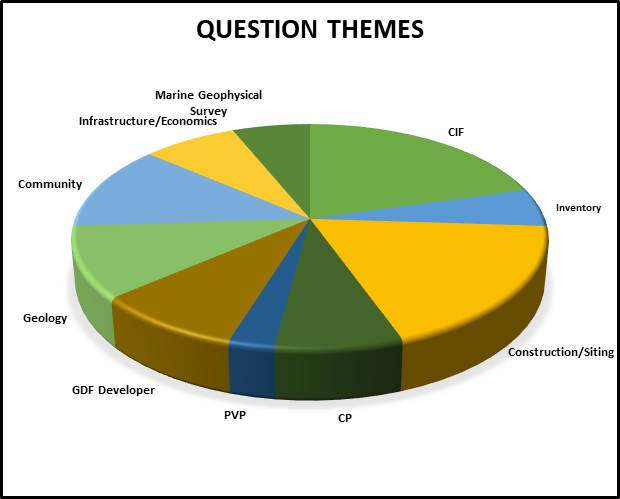 PVP – Property Value Protection
CP – Community Partnership
CIF – Community Investment Funding
All of the questions and statements from the events, plus other information, can be viewed in our website's resources section here.
Further Community Partnership members required
The Mid Copeland GDF Community Partnership has identified some key areas where it could benefit from new members – the sectors are: Farming, Business, Youth and Tourism.
A key requirement is that members represent the views of people within the Search Area and so priority will be given to people who live or work within the Search Area. The Partnership may also approach organisations.
A limited number of new members are required at the moment but there will also be future opportunities to join a sub-group or stakeholder forum once those have been established.
An application form and guidance are available on the website. The deadline for applications is Friday, July 1 and interviews are expected to take place week commencing July 18.
Membership will continue to evolve as the Partnership itself progresses.
Seascale Cricket Club awarded over £8,000 for electronic scoreboard
Seascale Cricket Club has been awarded over £8,000 for an electronic scoreboard from the GDF programme.
Andy Lee, Club Chair, applied for Community Investment Funding and was awarded £8,122 and the scoreboard is now on order.
The club has always used a manual scoreboard.
"This funding is absolutely fantastic for us, it's a real step forward for the club and will bring us in line with bigger cricket clubs," said Andy.
"It will bring us up to modern day standards for scoring and we're hoping it will also attract more younger people as it will allow us to provide a live feed online from matches. People will also be able to see the scoreboard much more clearly from around the ground."
Andy added: "There are lots of further ideas to develop sporting and recreation capability in Seascale, hopefully as part of the GDF programme."
The club currently has members from age 7, with no upper age limit, and includes a ladies' section which was started last year.
If you would like any information on how to apply for the £1million Community Investment Funding now available for projects to benefit people living in Mid Copeland, click here.
Marine Geophysical Surveys – interview with the Project Manager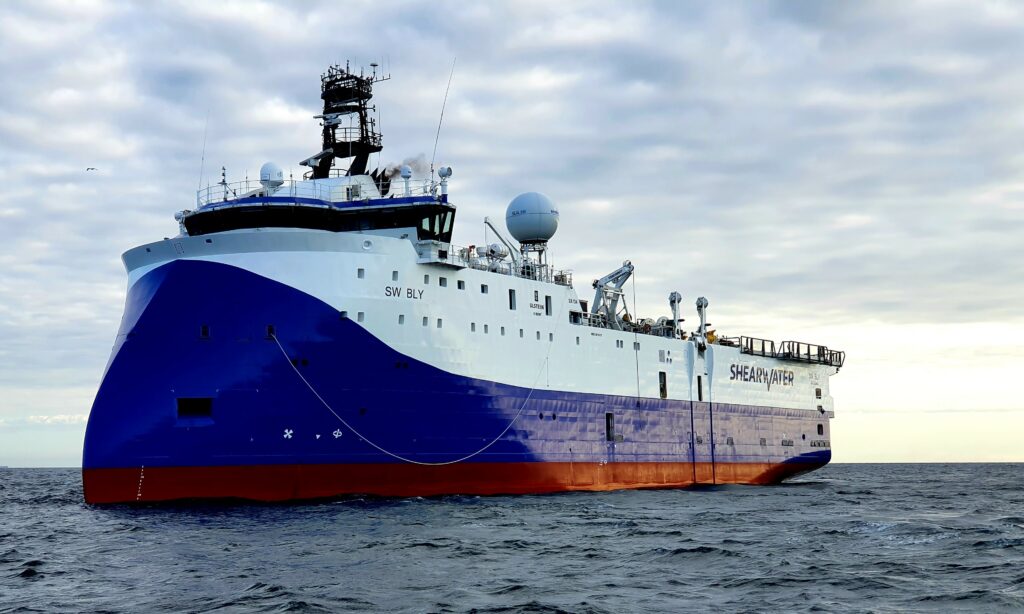 Surveys are due to take place off the coast of Mid and South Copeland for around three – four weeks this summer to deepen understanding about the nature of the deep rocks beyond the coast. This is part of the work required within the siting process for the underground elements of a Geological Disposal Facility.
We asked Chris Eldred, Senior Project Manager in the GDF Programme, some questions about the surveys, please read those questions and answers here.
West Cumbria Funding Fair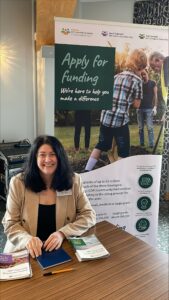 The Community Investment Funding (CIF) team for Mid and South Copeland Community Partnerships recently attended the West Cumbria Funding Fair.
There was an excellent turnout at the event which was held at Whitehaven Golf Club and involved both national and local funders coming together to offer support and guidance to not-for-profit organisations on a range of local funding opportunities.
Helen Conway, Grants Manager for Copeland, said: "The team was able to speak to 18 organisations from across West Cumbria on the day. Some of those we'd already started to work with on pre-application support and were therefore able to reconnect on the day and make further progress.
"We also met some organisations who were unaware of GDF Community Investment Funding before attending and we helped them with information and support. We're looking forward to taking some of those conversations forward and supporting with future applications."
The Mid Copeland area has access to £1million Community Investment Funding per year from the GDF programme as discussions progress around what a facility could mean locally.
Events in the Lake District National Park
We're planning to hold some engagement events for people living in the Lake District National Park (LDNP) during the summer in Mid Copeland.
Whilst the LDNP is not being considered for the hosting of a GDF, it is currently part of the electoral wards that make up the Search Area. The people who live in those electoral wards can still apply for Community Investment Funding and would have a say in a Test of Public Support if the Partnership progresses to this stage.
Details on these events will follow and if you live in the LDNP and would like to talk to the team – do get in touch via the details below and we can arrange a meeting.
Contact us – the Mid Copeland GDF Community Partnership wants to hear from you!
Do you have a question? Would you like talk to our community engagement team? Would you like some information? Are you interested in applying for Community Investment Funding?
Whatever your need, please find all of our contact details here:
Email: Gdfinfo-midcopeland@nda.gov.uk
Community Investment Funding email: communityinvestment-midcopeland@nda.gov.uk
Telephone: 0300 369 0000
Post: Mid Copeland GDF Community Partnership, GDF Enquiries, PO Box 734, Swansea, SA1
Please follow us on our social media channels to keep up with the latest news:
Twitter: @copelandM_CP
Linkedin: Mid Copeland GDF Community Partnership
Facebook: MidCopelandGDFCommunityPartnership
To see the Minutes of Mid Copeland GDF Community Partnership meetings see here.